1. The Barn at night is a beautiful sight; 2. The renovated Centennial BarnEven though they had a very limited budget, Dawn and Caleb Murray had a beautiful wedding – thanks to the Franciscan Sisters of the Poor and the Centennial Barn. From the time that the Sisters decided to renovate the old barn on the St. Clare Convent grounds, the Sisters wanted to reach out to their surrounding communities.As a matter of fact, Dawn was very active in the Hartwell Neighborhood Association, which is why she became involved with the Centennial Barn even before renovations were complete.
When she spoke with the Centennial Barn's Director about her upcoming wedding, she also learned about the 'Barn's' sliding scale – and the fact that the Sisters were willing to open their chapel for weddings. It was a glorious, joyful surprise: she and Caleb could have a lovely wedding in a lovely chapel with an elegant place to hold a reception. She could barely contain herself: she called her fiancé right then to share the news! In fact, Dawn and Caleb became the first couple to arrange their wedding through the Centennial Barn.
The History
In this way, the Centennial Barn started its journey to becoming a hub of community activities. It is a 'home' for gardeners, community and business meetings, refugees, spiritual programs, yoga, spiritual direction and healing therapies: a place of learning and of hope. How does an old, structurally sound building become an environmentally friendly, multi-purpose community- centered building? The first step was to empty it out, call in the experts, conduct an inspection and feasibility assessment and build a team to realize the dream! From the beginning, our 'dream team' (Srs. Joanne Schuster, Arlene McGowan and Ann Cecile Albers) insisted that the building had to be as green as possible, which certainly added life to their discussions with an architectural firm that specializes in restoring historic buildings.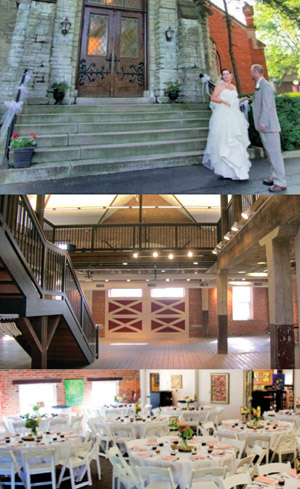 1. Wedding at the SFP Convent's Church; 2. Atrium south; 3. The upstairs at the Barn is ready to host a Wedding Reception
The property (originally 44+ acres, it is now 35 acres) was sold at a Sheriff's auction in the early 1800s for $5.00. By the late 1800s, when the Sisters bought the property, it cost $24,000. At the time, Sr. Columba Voss came to design and build St. Clare Convent. As Sr. Columba's health began to fail, Sr. Coletta Kirchner was brought from Germany to finish St. Clare's and to build a new barn: the old barn stood directly across from the chapel doors - with all the sights and sounds and smells usually found in barns. Sr. Coletta visited every barn in the vicinity before she designed and built this barn – which is on the other side of the property. For most of its life, it served as a barn but as times changed, it became a dwelling place for the sisters' visiting families, a house of prayer, a rehabilitation site for young people with addictions - and finally a storage place for the Franciscan Terrace Retirement Center.
While plans for the building's new life were being developed, we sought and were granted zoning approval.
The barn was inspected for structural integrity, and needed repairs were undertaken. The new Barn, which is officially called The Centennial Barn, is energy- efficient: the roof, portions of the exterior walls and crawl spaces are thoroughly insulated with environmentally friendly materials wherever possible. Heating and cooling account for about 70% of the building's energy use, so the heating, ventilation and air conditioning includes a geo-thermal heat exchanging system. Bricks removed during demolition were reused to replace damaged brick elsewhere on the exterior of the barn. If additional bricks are required, they are the same color and closely match the existing brick: it retains its historic appearance. The interior of the building was restored to accommodate the new uses, but great efforts will be taken to retain its original character.
Each year, the Cincinnati Preservation Association's Award recognizes outstanding accomplishments in local preservation activities. The 2010 award was given to the Centennial Barn. The citation read, in part, as follows: "Long vacant and endangered, the 115-year-old Centennial Barn in Springfield Township was creatively repurposed as a multipurpose event, education and worship center while preserving its character. Green features include high- efficiency geo-thermal heating and cooling equipment, lighting and insulation serving the meeting rooms, kitchens, offices and ancillary spaces."

The Programs: Renewal and Rebirth
The Centennial Barn was put to many new uses, at first (before renovations were completed) for the Community Gardens, managed by the Centennial Barn's Director, Rose Aleman. The First Floor houses a small and beautiful prayer space located in the space set aside for holistic modalities. It accommodates 50 people in the main prayer space. For smaller groups there is another prayer space directly across from the larger prayer space. The west wing also provides a large area for community activities. The room has comfortable seating, a small kitchenette area, wireless capability for laptop computers, and a large screen TV with DVD and VCR.
The office space for the Centennial Barn's Director, the Director of Franciscans for the Poor, the Young Adult Services Coordinator, the Marketing Director, and secretarial support for the programs are located near the main entrance. There also is a laundry facility and a staff break room.
The central atrium is used for wedding receptions, art displays, book signings, and community meetings. A large veranda located in the rear of the building is available for large and small groups. In addition to an attractive open stairway to the second floor, there is an elevator to make the entire building handicapped accessible.
The Second Floor has a large meeting space that accommodates approximately 200 people. The room can be set for rowed seating or round tables and chairs or other combinations. It includes a sound system, portable stage and projector equipment. The Sisters use this space as a preferred venue for assemblies and meetings, Associates of religious communities use it for retreats, and the lay community for all kinds of meetings and celebrations. There is also a smaller meeting room, and a service area for catering. Along the hallway there are restrooms and storage spaces.
The Barn at St. Clare's was reborn once again, this time as an active, functional community center of services encompassing our ministries, and reaching out to our neighbors.
What we have accomplished so far…
Even though many things remained to be done, staff moved into their offices in 'the Barn' and began planning and programming. Many people started calling and making enquiries and this exciting project was launched – and it has not slowed down from its inception!
In its first year (2009), the Community Gardens donated over 2,000 pounds of fresh produce to groups that help those who are poor (e.g., Our Lady of the Woods, Grace Place and the Drop Inn Center for the homeless) – and in 2010, we were able to donate about 2500 pounds of fresh produce! In 2011, we installed two beehives and bartered with a beekeeper to care for them – and by 2012, we sold our honey at the Harvestfest. In 2012, the Community Gardens donated over 6,000 pounds of produce as our community gardeners all voted to donate a percentage of their crops to those who are poor in addition to the plot designated only for donation and maintained by Barn staff.
We made every effort to make the Franciscan Gardens self-supporting:
• 50 community members are participating + family and friends.
• Everyone has agreed to donate some of their harvest.
• Each gardener pays a fee of $25 or 5 hours of service for membership.
• The money buys seedlings, and pays for plowing, etc.
• Findlay Market donates compost and manure.
Left: Young Adults - A Sudanese band entertains; In the middle: The veranda offers space for concerts and parties; Right: Harvestfest at the Barn

The involvement of the Bhutanese refugee community has facilitated an ongoing collaboration with Catholic Social Services. Currently we are working on a grant with Catholic Charities to underwrite the cost of refugee gardening. Connecting People with Themselves – and Others
Connecting People with Themselves – and Others
In March of 2010, the Centennial Barn held its grand opening. In June, when we received our occupancy permit, and we began serving not only as a meeting place for the Franciscan Sisters of the Poor, but also for community classes, workshops, retreats and other events. In its first nine months of operation, the Barn hosted over 751 classes, spiritual retreats, community events, celebrations and wedding receptions, initiated its Annual Harvestfest, hosted the U.S. Assembly, the U.S. Associate Commitment Ceremony and Annual Picnic, and the Franciscan Sisters of the Poor's International Healing Conference. In 2012, the Barn's various activities had more than tripled: the Centennial Barn offered over 2,411 classes, spiritual retreats and guided meditations, community events, business-oriented meetings, ceremonies, therapy sessions, and spiritual direction.
Many young adults have been attracted to the Centennial Barn for its programs, bands and wedding receptions. Approximately 30 to 50 percent of the attendees at the various spiritual offerings held at the Centennial Barn are young adults. Moreover, the 2012 U.S. Area Assembly, as well as the 'Barn's' third annual Harvestfest (combined for the first time with the Franciscan Ministries Second Annual Pig Roast) were held at the Barn. Many of the couples whose wedding ceremonies are held in St. Clare Chapel decided to have their receptions at the Centennial Barn. The Centennial Barn also built a labyrinth, held a pet ceremony, built a fire pit -- and erected a Peace Wall.
As a ministry, we thought it was important for the Centennial Barn to model the concepts of a Caring Economy, and to keep the space accessible to all people and to attract and retain therapists, teachers, artists and volunteers. As such we implemented a 70/30 financial split with therapists and teachers. We offered an 80/20 financial split for the artists showing their pictures and sculptures in our space. We created an income based sliding scale that follows the Federal Poverty guidelines and we worked with community based fundraisers to offer affordable space to events that help people in the local area.
Left: Many people walk our Labyrinth to get in touch with themselves again; Right: The Community Gardens give bountiful harvest

We strive to optimize our mission: To enrich life through opportunities for spiritual development, exploration, celebration, growth and unity of body, mind and spirit. We will do this while honoring our values of Community, Spirituality, Respect, Empowerment, Exploration, and Growth.
Our objective is to continue as a self- sustaining ministry. In fact we already have rented space for every Friday and Saturday for all of 2013 and well into 2014. Aside from our income generating programs and space rentals, this ministry has been funded by the Franciscan Sisters of the Poor's St. Elizabeth Fund. That is, we will generate enough income from rentals and programs to cover the cost of operating the building including the salaries and benefits of our staff. After 2015, we hope to generate sufficient revenue to provide financial support to our sister ministries that comprise Franciscan Ministries Inc.
In 2012, The Centennial Barn accepted the I-CAIR Award from the Council on American-Islamic Relations, Cincinnati Chapter. "The Centennial Barn was chosen because of its willingness to pursue and foster interfaith dialogue and to work for positive change in interfaith relations," said Karen Dabdoub, Executor Director of I- CAIR. Healing is, in many ways, independent of illness, impairment, cure of disease, or death. Healing is a reinterpretation, in a sense, of experience(s) in your life. It is related to wholeness, and wholeness is experienced within oneself and in connection with others. In this sense, healing is mind-body-spirit within the experience of community. This is the essence of what we are trying to do at the Centennial Barn.
Leah Curtin, SFP-A
Published: June 9, 2014