Sr. Beth Rindler, Sr. Paula Heucker, Sr. Clarita Frericks, Associate Karen Skillman, Sr. Jo-Ann Jackowski
Sr. Adelaide Link, Sr. Yvonne Fackler, Associate Karen Skillman, Sr. June Casterton, Sr. Joanne Schuster, Sr. M. Madonna Hoying, Sr. Marilyn
ASSEMBLY DAY – CINCINNATI, OH
October 29, 2016
Drumming - Sr. Joanne SchusterOn a beautiful Fall day, Sisters and Associates gathered in the Peace Center lobby of St. Clare Convent to "Celebrate Life and Mercy" at the 2016 Assembly Day. The Chiara room door had been transformed into our "Holy Door of Mercy." Sr. Joanne Schuster set the tone for the opening ritual with rhythmic drumming. After the blessing of the door each Sister and Associate prayerfully blessed one self. While entering the Assem-bly space everyone continued to chant "Misericordias Domini in Aeternum Cantabo" (We will sing of your Mercy forever).
Sr. Marilyn (Welcome)Sr. Marilyn Trowbridge welcomed everyone and gave an overview of the day. On this joyous occasion we took a moment to honor those celebrating Jubilees: Sr. Miriam Bulcak (70 yrs.), Sr. Pascaline Colling (70 yrs.), Sr. Marie Martin Smith (60 yrs.), Sr. Joanne Schuster (50 yrs.) and Associates: Molly Johantgen (15 yrs.) and John Pack (15 yrs.).
After we enjoyed a video presentation of the 2016 International Congregational Conference, we engaged in a presentation based on Stella Morra's Theological Perspective on the Resurrection (prepared by Sr. Jeanne Glisky and read by Sr. Madonna Hoying).
After the presentation each table reflected and shared about how we are called to begin a new a personal transformational journey of healing and mercy. The conversation and dialogue was insightful, energetic and lively.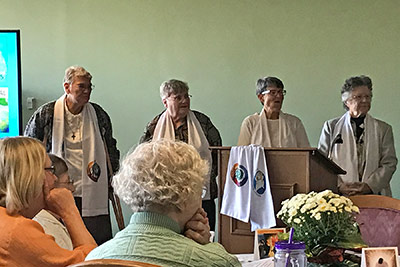 Sr. Adelaide Link, Sr. Yvonne Fackker, Associate Karen Skillman, Sr. June CastertonAfter a mid-day Italian feast topped off with tiramisu, we enjoyed some free time. During the afternoon we entered into an "Emmaus" experience. Associate Karen Skillman led us through a guided imagery experience. During our table conversation we explored "how we recognize and experience the Risen Christ in our life now." After a break the Rome participants shared their favorite memories of the Conference. It was interesting to note that besides being with everyone that the Talent Show night was a wonderful memory for all. We then viewed more pictures from the Conference and concluded the day with a festive Liturgy followed by a pizza and salad supper.
We thank all the people behind the scenes who planned and helped the day to flow:
Srs. Yvonne Fackler, Ann Cecile Albers, June Casterton, Madonna Hoying, Adelaide Link, Joanne Schuster, Bonnie Steinlage, Marilyn Trowbridge, Associate Karen Skillman, Jo Koch, Chef Bill Lawrence and his staff.
Standing - Sr. Christine Edwards, Sr. Paula Heucker, Sr. Mary Virginia Schreiner Seated - Sr. Daniel Marie Meade, Sr. Grace Frances Stauber, Sr. Rose Carmel Berberich, Sr. Judy Nagy, Sr. Marie Clement Edrich
Sr. Yvonne Fackler, Father Fred Link, ofm
Blessing of the Holy Door - Sr Marilyn
Jason Noel - Musician
Sr. Rita Kruthaupt, Sr. Mary Louise Jacobs
Associate John Pack, Associate Molly Johantgen, Associate Director Joan Mills, Associate Anne Cabanas
Associate Nancy Ziegler, Associate Diane Borchers, Sr. M. Pascaline Colling, Sr. M. Madonna Hoying
Sr. Joanne Schuster, Sr. M. Madonna Hoying, Sr. Marilyn
______________________ Jubilees ______________________
Jubilee - Sr. Miriam Bulcak
Jubilee - Sr. Marie Martin Smith
Jubilee - Sr. M. Pascaline Colling
Jubilee - Sr. Joanne Schuster
Jubilee - Molly Johantgen (Associate)
Jubilee - John Pack (Associate)
Area US
Published: November 25, 2016