On Sunday, September 21 2014, more than 2,700 rallies worldwide were held, sending a strong message to the United Nations General Assembly which began its meeting in New York on September 23rd. We were among the more than 300,000 people marching from Central Park to Times Square, to express our desire to take care of the Earth, to guarantee a future for the next generations. We marched in the name of all SFPs to bear witness to our commitment to the Community of Life, with the knowledge that in order to change things, we must first of all make a joint commitment to change ourselves.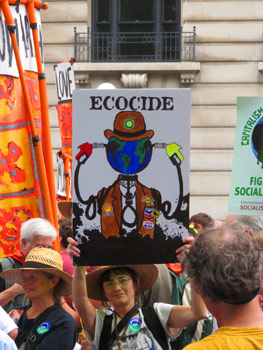 First, all the marchers held their hands up in the air and observed a moment of silence for the victims of climate change, then there was a lot of noise: protestors shouting, bands playing, shofars (ancient Jewish musical instruments) trumpeting from synagogues, and bells from churches all added to our protest against the exploitation of our Mother Earth. It was a festive atmosphere but the message is very serious.
Leslie Cagan, logistical co-ordinator of the Peoples Climate March, said, "We are trying to celebrate our lives and this planet in order to show that this is what we are fighting for. The human spirit is under threat."
"Climate change is the critical challenge of our times. The Secretary General of the United Nations, who participated in the March said, "We don't have time to waste. If we do not act immediately, we will have a much greater price to pay."
Sr. Marvi Delrivo and Sr. Marina Triglia
Published: November 10, 2014